While real estate is always an attractive investment, some circumstances make it especially advantageous. We're living in one of these moments right now.
There are many avenues to ownership of investment real estate:
• Building from scratch is expensive and will cost in excess of $75.00 per square foot without even considering the cost of the land. In today's market, many properties are available for far less than it costs to build.
• Buying property at retail can lead to a quality investment over time, but this is heavily reliant on future appreciation. Opportunities are available to buy homes under their retail value.
• Acquiring distressed properties (foreclosures) provides the opportunity to create instant equity through improvements, and increases the cash flow. This is where "real" value is created.
Because of the recent banking and credit crisis, we can currently purchase homes for…
- a fraction of their previous values
- a fraction of their tax assessed values
- a fraction of their replacement cost
Rent to Price Ratio:
We are able to buy foreclosure homes for far less than it costs to build new ones, and they provide extraordinary ratios of rental income to total investment cost. Atlanta's stable rental market combined with low interest rates, and a falling housing market, results in better cash flow opportunities and lower risk – and provides a tremendous upside opportunity.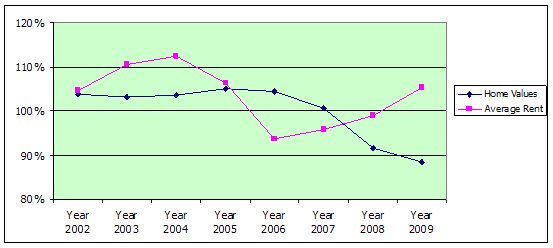 Sources: Standard and Poor's - Case–Shiller index and US Dept. of Housing and Urban Development. Values are depicted as percentage of the average 2001 values.
Cash flow depends upon the ratio of price to rent. The chart above shows that rents in Metro Atlanta have been trending up, while prices have dropped dramatically. The best cash flow opportunities exist where the average rent index is notably higher than the average home value index.
Since 2003 our occupancy rate has been between 88% and 93%. Lately however, the rental market has also improved. Occupancy in November 2009 was 92% and has increased in May 2010 to 99%.